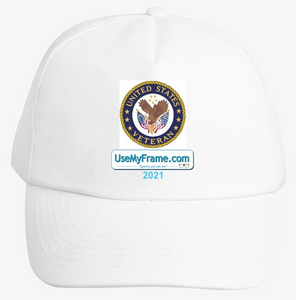 As a special thank you to our Veterans, we are offering this limited edition hat with the Veteran's logo, and our logo/colors underneath. 
We intentionally placed our logo underneath, as another way of showing our profound respect to these special men and women.
This promotion ends this Sunday, November 14th. As this is a special occasion, this will be the only time these hats will be available.
Each hat is 100% brushed cotton material, and one size fits all, with an adjustable strap in the back.
So if you or someone you know would like one of these hats, or if you just want to show your gratitude along with us, please don't wait as you won't find these anywhere else!
Use the following coupon code at checkout to activate this promotion: VET2021
Blessings,
Neil F. Uher II, ABO-AC
UseMyFrame.com, President
*Please allow up to 3 to 4 weeks for delivery
**One hat per order and cannot be used with other coupon codes/sales